Procore Sponsors and Attends the Grace Hopper Conference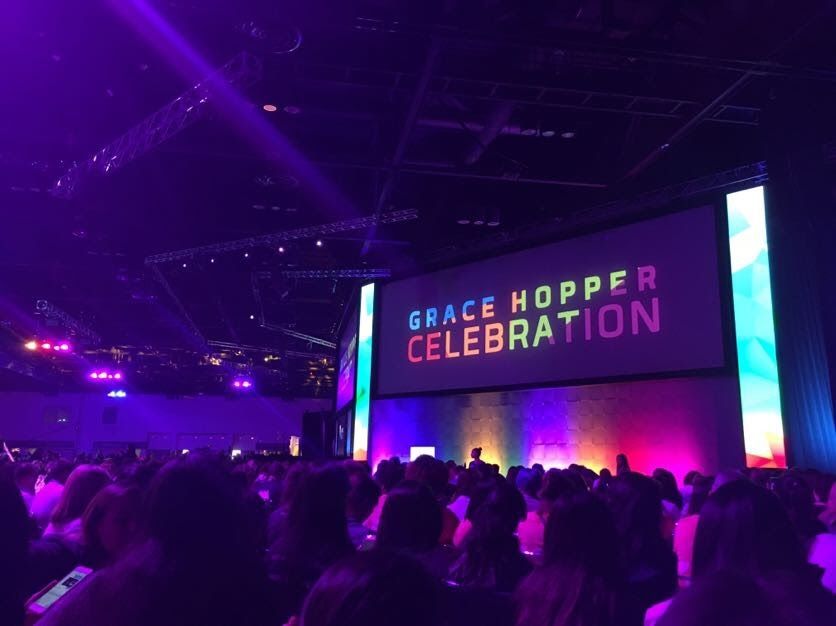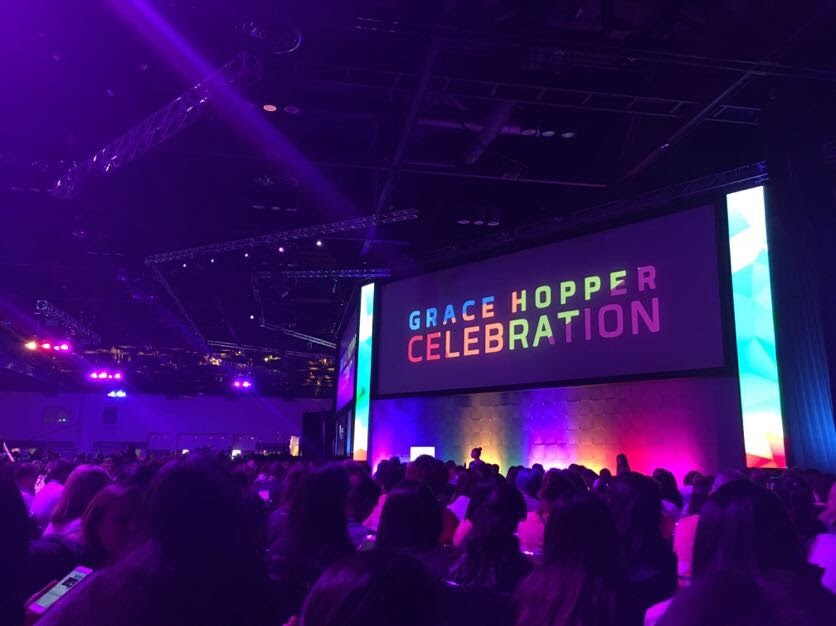 Last week, Procore sponsored the Grace Hopper Conference and gave developers from Research and Development the opportunity to attend. Twenty-five of them decided to go and promote Women in Construction, Women in Engineering, and Diversity & Inclusion. The Grace Hopper Conference is the world's largest gathering of women technologists featuring speakers like Melinda Gates, founder of the Bill & Melinda Gates foundation, as well as Dr. Fei-Fei Li, the Chief Scientist at Google Cloud. The event is designed to bring women together from across the globe who are involved in technology––a male-dominated industry––in order to encourage the sharing of ideas and experiences. Citizens of technology come together to sponsor the event and support women in the field. Some Procore attendees wrote about their highlights meeting impactful women with ample experience and advice.
---
Tiffany Tipton, Financials Quality Assurance Engineer
I can sum up my experience at Grace Hopper in one word: life-changing. Attending the conference renewed my passion to pursue the power of technology, as well as other dreams I have.
Deborah Berebichez, co-host for "Outrageous Acts of Science," said in her keynote speech,
"You are the only person who can turn your thoughts into action."
I'm taking this sentiment to heart. Because of this conference, I have found new dreams. One of the highlights of this experience were the number of sessions I attended that discussed working with artificial intelligence, machine learning, and virtual reality technology. These forms of technology have proven to be solutions to much larger issues. I have a newfound interest in learning everything I can about these technologies. Ultimately, my goal would be to utilize them to promote awareness of mental health and find better ways to deal with these illnesses. As a result of Grace Hopper, I now have a tribe of amazing, brilliant women to support and encourage me in this endeavor. I'll take that tribe with me wherever I go. I've been inspired like never before, and I'm encouraged to turn this inspiration into a new reality.
Eyvette Sou, Quality Assurance Analyst
In attending the Grace Hopper Conference, there were two speakers who particularly stood out to me. Ling Xu, Chief Technology Operator of Be the Change Foundation, was one of them. She shared an incredible story of when she immigrated to America in 1990 with $45 in her pocket. She earned her PhD, became an Engineer Manager at IBM, and soon after moved to become the Chief Technology Officer of Bank of America. She stressed during her session that more women need to be confident in themselves. Too many women focus on pleasing everyone else when we should actually be focusing on what is best for the business and looking to the bigger picture. Believing in yourself is the first step, treating yourself and others well is second and, lastly, practicing the skills of communicating and branding yourself. She believes if you treat yourself well, you will also treat your peers well. Working well with your team will help elevate you to a higher position and having the skill to communicate and brand yourself to your peers and superiors is crucial. She implored attendees to remember these steps and help each other perfect these skills.
Another speaker highlight was Melinda Gates who led an extremely successful career at Microsoft. She explained that she wanted women to know that it's okay to fail and to learn from their mistakes. Melinda encouraged attendees to stay strong and support one another.
Grace Hopper was an amazing experience. I have never felt so empowered.
It provided me an opportunity to meet women in the field and find support within the technology industry.
[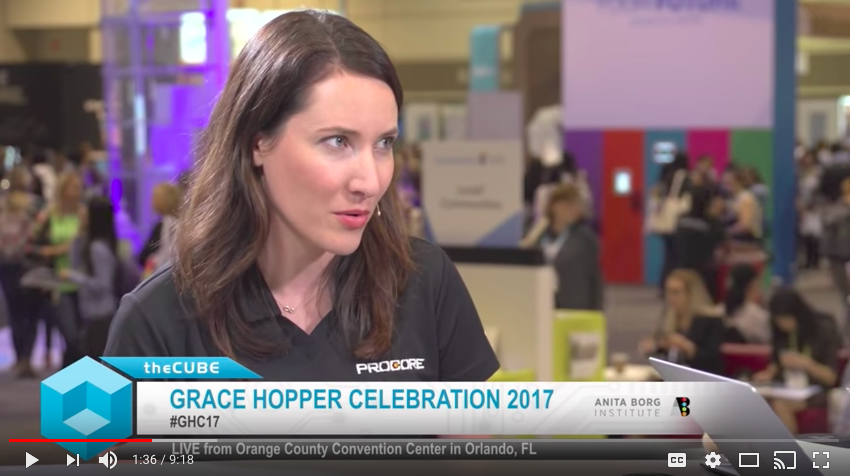 ](https://www.youtube.com/watch?v=L577op-28ww " target="_blank)
Engineering Manager, Rory Budnick, was interviewed at the event about her experience at Procore.
Ashley Elder, Quality Assurance Web Engineer
Grace Hopper was amazing. Hundreds of students who were eager to land their first engineering internships approached our booth and talked about what they desired to achieve. These interactions gave me a glimpse into the future when R&D departments at tech companies will be more diverse. I enjoyed exploring other booths and learning about companies' initiatives around company culture, diversity, and hiring. Several companies came well prepared with materials specifically geared toward women finding their first jobs in tech. So much inspiration and relationship building came from the event. I highly recommend attending Grace Hopper at least once.
Julissa Jansen, Software Engineer
While at Grace Hopper I had the opportunity to sit in on an impromptu "Ask Me Anything" with Alexandria Butler, Project Manager at AirBNB. She brought up the importance of employee resource groups. "Employee Resource Groups (ERGS) come back to community. You spend more time at and thinking about work than any other place, because of this it's very important to feel safe… the point of ERGs is not to segregate, but to create community." As a member of Procore's Diversity and Inclusion Council, I recognize the need for Employee Resource Groups not just at Procore, but at tech companies all over. ERGs help employees feel valued, understood, and engaged. They are a mechanism which helps companies focus on the retention of employees who identify with any underrepresented demographic in tech.
Martina Vassileva, Quality Assurance Infrastructure Engineer
During a busy lunch hour I shared a table with a hardware engineer who worked for Qualcomm––the main sponsor of the event. She talked about the challenges she faced: finding the time to be the primary caretaker of her three children and her home, being a wife, and being a provider for her household. She explained that when she was at work, she felt guilty for neglecting her children, but when she was with her children, she felt guilty for neglecting her work.
This is not something that strangers talk about when they only have 15 minutes together, but at Grace Hopper, every interaction was personal and assumed a level of intimacy that is not common between strangers. Grace Hopper offered great speakers, many poignant moments, and words of wisdom. Yet its most significant impact came from the 18,000 attendees themselves who shared powerful exchanges like these where women identified with one another and brainstormed solutions. A sea of incredible women, who all appeared ordinary, but were so much more than that.
---
Cleary, attendees left the Grace Hopper Conference feeling inspired, empowered, and ready to take on the world. Procore looks forward to sponsoring similar events and encourages our employees to attend and participate in such things. Diversity and Inclusion initiatives are a priority at Procore both within the Research & Development department and throughout the company. While we still have work to do, we are making strides in the right direction and plan to continue to do so.
Interested in a job within Procore's Research and Development department? Visit our jobs page here.