Navigating the Tech World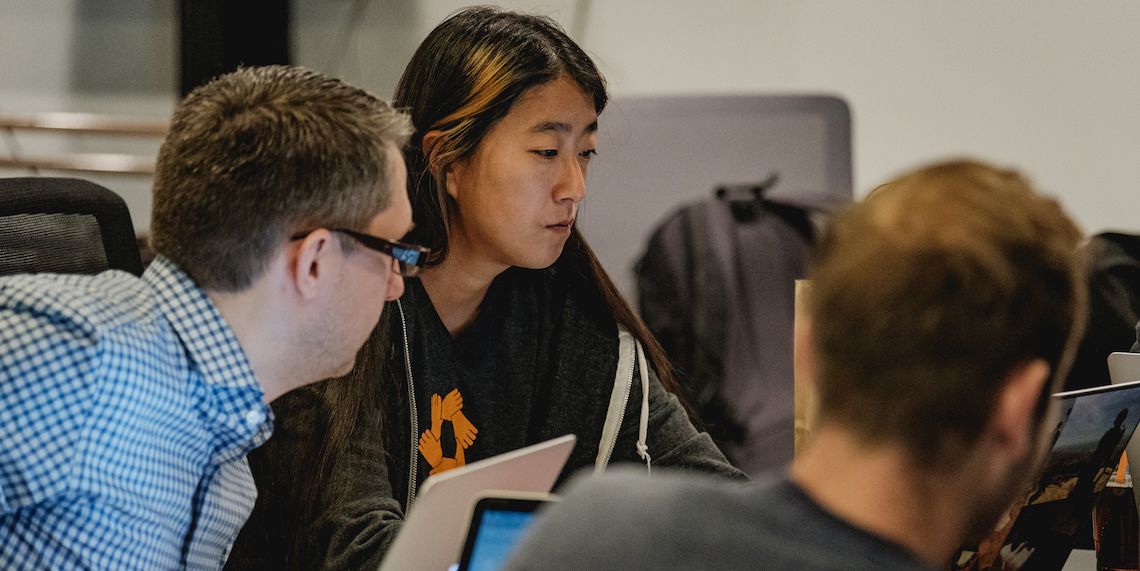 I recently had the opportunity to be a part of a panel with six other inspiring women at the Women in Computer Science "Navigating the Tech World" meet-up at the University of California, Santa Barbara. As an alumni of the school, this was a great opportunity to give back as I wanted to offer some insight and encouragement to the students preparing to enter the workforce.
After working in the software industry for five years, I've experienced the difference in the number of women and men who exist in engineering departments. Not only are we often outnumbered in these departments, but the number of women applying for roles within engineering teams is significantly lower than the number of males. How do we begin to combat this? Getting women involved in this industry starts at a young age by providing young women with role models in the field who can say, "I'm doing this, and so can you."
As a young female in the computer science field, it can be hard to stay motivated to remain in an industry where you feel isolated at times. Events like this allow female professionals who are working and succeeding in the software industry to come and speak with young people, highlighting the best aspects and challenges that this line of work present. This makes the possibility of a job in this industry more tangible and accessible. It also allows these students to form networking opportunities with professionals in the industry who are able to offer advice for their future job search and careers.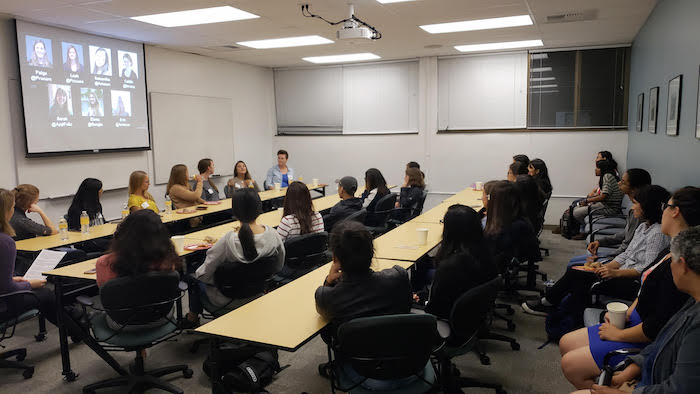 Paige Garnick, Engineering Manager at Procore, speaking at Navigating the Tech World.
We started the evening by introducing our company, our position, how long we've been in our careers, and how we got there. An interesting takeaway was that almost no one in the room had a "traditional" path. Whether we strayed away from our original path after school or in the middle of our career, the emphasis was that it is good to be open-minded about one's path because you're giving yourself more opportunities, even if some don't feel realistic.
Throughout the event, I found 5 key takeaways:
1. Find a mentor
Getting input from someone else in the tech industry with more experience can provide a valuable perspective to anyone entering the field. Advice and tips about what it's like, technologies to focus on, as well as how to navigate the real world of work are just some of the learning possibilities. There have been numerous individuals that have mentored me over the years and helped me get to where I am now. Talking to someone who has valuable experience is a great learning opportunity lending you another perspective that can be helpful in moving forward in your career.
2. Continued learning is key
I've always found myself eager to continue learning in every aspect of life so joining an industry that I knew very little about was a fun and exciting transition. It shouldn't come as a surprise that in the field of technology, continuous learning is inevitable. Luckily, there are a variety of ways to learn in this ever-changing industry. Here are some of the different ways we continue learning at Procore:
Sharing ideas with colleagues
Taking online classes
Reading books and leveraging our Procore library
Attending conferences
Participating in hackathons
3. Be your genuine self
I interview hundreds of people a year, and passion is usually the thing that stands out most during interviews. Passion generates the motivation to learn and helps generate a healthy culture. This is something that applicants cannot always convey on paper, but is important to note about most company's hiring process.
On the topic of being yourself, I thought this statistic was interesting. A study done by Hewlett-Packard (HP) suggests that men will apply for a job if they meet 60% of the qualifications, while women want to ensure that they have every box checked. There is no problem with applying for a job where you might not check every box, so make sure you don't allow that to hold you back. On the other hand, there is a problem when you add qualifications that don't truly represent you or your experience. When applying or interviewing for a job, just remember to be your genuine self. Don't pretend you know the answer when you don't and don't add things on your resume that aren't true or embellish the truth… just be yourself. That's what employers are looking for at the end of the day.
4. Becoming a manager is not a promotion, it is a job change
If you become a manager, it is not a promotion, it is a job transition. Being an individual contributor and being a manager are two completely different jobs. This was one of the most difficult transitions of my career, and three years in, I'm still overcoming challenges in the role everyday. Myself and other managers in the room discussed challenges we faced going from a technical contributor role to a manager. These included:
Becoming responsible for the careers of your peers
Learning how to delegate
Technical skills getting rusty
Not being able to please everyone in your decisions
Navigating difficult conversations
5. Being challenged leads to higher motivation
I feel most motivated at work when I'm learning new things and growing. Often times, this causes me to be outside of my comfort zone until I feel a bit more familiar with whatever it is I'm learning. When discussing tips for building expertise around your work and staying motivated, we all agreed it's important that you're finding yourself being challenged. Most panelists admitted that when they were not challenged by their jobs, their motivation to excel and stay productive plummeted.
I'm really grateful that Procore supports my participation in events like these where I might be able to help encourage women to join an amazing industry. It is an execution of Procore's promise to all employees, which is to offer autonomy, mastery and purpose. While this industry offers many amazing opportunities, I know from personal experience how challenging it can be as a female. With that in mind, it is so important to me to connect and meet other women in tech in our local Santa Barbara area in order to reflect on my own career and learning. Events such as this one give me that opportunity. I look forward to future opportunities to be involved in similar events.